A fire pit table is one of the pieces of outdoor furniture that is usually used to add style and luxury to the outdoor location whether it is your backyard or patio. It is normally used during colder nights to keep everyone at the table warm. The level of safety of the fire pit table can be understood more effectively by going through its pros and cons.
Pros of a Fire Pit Table
Outdoor furniture with a difference: Most people have various types of furniture for their outdoor location like a table with a sun umbrella, tents or/and patio chairs, etc. But it will be something different if you have a fire pit table in your backyard. It will not only add style to your outdoor setting but also stand out among the other furniture in it. Everyone will like to enjoy the leisure of warmth at your table.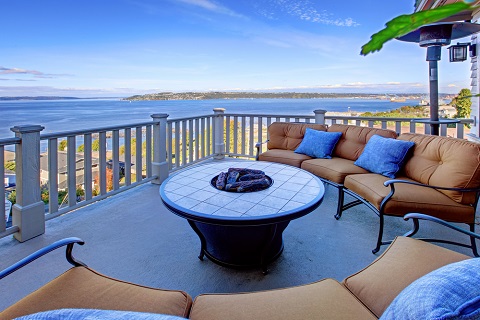 Cooking: You can use the fire pit table not only for enjoying drinks with your family and friends but some designs also allow you to cook snacks on its fire to enjoy freshly cooked items with your drink. This camp-fire like experience at home will be enjoyed by everyone from kids to adults. However, before starting the fire you should ensure that you have all the ingredients ready.
Entertainment: Along with cooking food and snacks a fire pit table is a family and friend magnet, drawing them together in the warmth for joyous conversations, laughter and games. It can make things more convenient than what you would normally expect.
Warmth: You can stay warm and keep your family and friends warm in the cold nights if you have a fire pit table in your home. Sometimes, at certain locations, the temperature can drop even in summers. So you can also use this table whenever required if you live in such places.
Energy Savings: Though some fire pit tables can be a bit pricey, its cost can be compensated from the efficient energy consumption that would otherwise be used by conventional heaters, thereby reducing the cost of your energy bills.
Cons of Fire Pit Tables
Expensive: Though you can increase the value of your home by having a fire pit table in your backyard, some can be quite expensive. But you need not go overboard with an elaborate fire pit table as some can be purchased for under $100. Bear in mind too that you must have a proper location to store it when it is not in use.
Maintenance: Being a fancy item of outdoor furniture you will have to maintain it frequently to enjoy its leisure over the longer term. While some models are fairly low maintenance, with others you may have to clean it before and after using it, repair the fire area if required as well as covering it during the rainy season.
Safety: Like any fireplace, the most prominent drawback is fire safety. This stylish and luxurious item can be hazardous anytime if used carelessly.
There are chiefly two major safety concerns. First, a negligent or reckless use can lead to fire. Keep flammable objects such as napkins and clothes, away from the fire. These tables can also be dangerous for children. While the warmth of the fire can be attractive, children could get injured or even get burnt if they are playing around them. Children should play away from the fire and should not be left alone near a fire pit table. Always keep your eye on them.
Second, if you use these fire pits indoors with inadequate ventilation, it could lead to dangerous asphyxiation. Poorly maintained ones in particular, are also susceptible to being smoky, or could even produce toxic fumes.
However, you can still use them indoors but with caution – you must ensure that you have more than adequate ventilation. You will be pleased to know that many modern fire pit tables are designed for indoors with high safety standards and many do not use flames, such as the electric fire pit tables. So, you might want to also consider those ones.
Final Thoughts
A fire pit table is an investment that would bring home a piece of utilitarian comfort and also something that enhances the beauty and aesthetics of your home and the outdoors. It is going to be a place where family members and friends would often converge for warmth on chilly evenings or cold afternoons. Here, you are going to have all your family members sitting and chatting over coffee and snacks.
This is going to be a permanent fixture in the patio or the yard in your home. While shopping for an outdoor fire pit, you should keep in mind that it's going to be a fireplace so it has to be safe and you need to be constantly aware of the risks involved. So choose a fire pit table that is safe. Also keep the ventilation aspects of it in your mind. You should install it in a place which is properly ventilated.
So should you avoid the fire pit table? Absolutely not. With careful planning, the fire pit table can greatly enhance your lifestyle. Consider these great Fire Pit Table designs as starters.
---
Readers also like…