Outdoor fire pits are popular because they stand out in an otherwise mundane space besides serving their basic purpose of providing heat during the cold days of the winter. Fire pits often work as a magnet for family members and friends to assemble around its warmth and have some chat, fun, food or small parties. However, on days when people are not around, you can have a quiet evening thinking, planning or reflecting on your life and things that matter to you. Fire pits are popular because they are low-cost, easy to use, and highly utilitarian.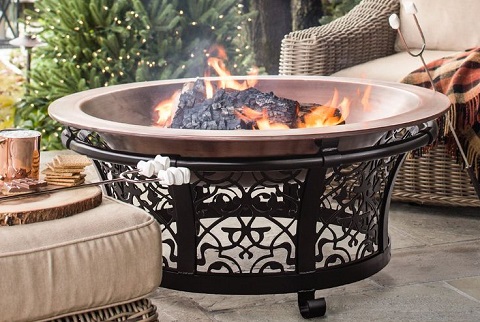 Differences
Copper fire pit and cast iron fire pit are two very popular iron pits that most home buyers consider when it comes to buying one such piece for their homes. A cast iron fire pit is much more durable than a copper fire pit. However, because of its reddish color, a copper fire pit looks distinct and special. On top of this, many people have a liking for copper as a metal. On the other hand, a cast iron fire pit has its own set of followers who like the way the metal is obtained and given the shape of a fire pit. Typically, cast iron fire pits are heavier and cannot be dented while copper fire pits can be lighter and can be easily dented even if both have the same thickness.
Which will rust?
A cast iron fire pit will not rust while if exposed to moisture, copper fire pit will oxidize and develop a sticky greenish coating over its surface. After being in use, a copper iron pit will soon change its color due to heat from burning firewood in it. Its surface turns black if it is not polished frequently and re-finished occasionally. On the other hand, a cast iron pit will neither rust nor require any polishing or re-finish. It will always sport the same rustic iron look without any maintenance. In this light, it is easier to maintain a cast iron pit compared to a copper iron pit.
Which will last longer?
A cast iron pit will last longer than a copper iron pit because cast iron will not oxidize easily while copper can. This factor makes copper less durable compared to cast iron. A regular use of copper fire pit can wear off its base and make it thin or even develop holes there. Its surface is also prone to denting while a cast iron pit can never dent. A fire pit made with copper can look more attractive due to its color but in terms of durability it's the cast iron fire pit that takes wins.
Price range
The price range for cast iron fire pits can vary from $50 to $350, depending on design and weight. For copper fire pits, the price starts at $100 and can go up to $350. It again depends on the design and weight of the metal. However, in the case of both the fire pits, there is a large range of fire pits at different prices. You can easily find a low-cost fire pit if you are on a tight budget but if your budget allows you to get the best quality fire pit, you can find hundreds of varieties in both the metals to choose from.
Heating efficiency
Both the metals – cast iron and copper — are good and efficient mediums for heating purposes. However, individual designs may have some bearing on their heating efficiency. You should choose a design as per your need. You can choose a fire pit with a big mouth if you need large amounts of fire for a bigger gathering. However, if you intend to use it personally or at best just a couple of people, you can find a pit with a narrow mouth. It will also consume less wood than the other type of the fire pits.
Design range
Both the fire pits are available in a large range of designs. You can look up these products at Amazon for an idea of the design and price.
Final thoughts
A cast iron fire pit is good for people who are looking to bring home a fire pit that lasts a lifetime. These fire pits are available in a huge range of designs that suit different needs.
A copper fire pit is good for people who want to replace it in 5 to 10 years. It is more suitable for those who prefer to retain its shining reddish hue by regularly polishing and re-finishing.  For great ideas on copper fire pit designs, view Copper Fire Pit Designs.
A cast iron fire pit may not be a great option for those who want to have a colorful fire pit. On the other hand, a copper fire pit may not be suitable for those who are looking to have a long lasting fire pit. For ideas on cast iron fire pit designs, visit Cast Iron Fire Pit Designs
---
Readers also like…